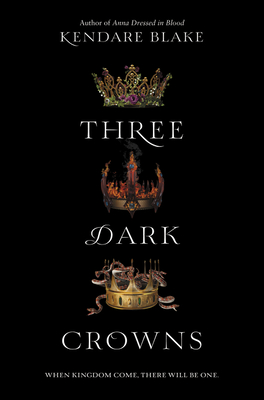 Title: Three Dark Crowns 
Author: Kendare Blake (Texas Teen Book Festival Author)
Release Date:9/20/16
Reviewed by: Maddy
All three sisters are born to be queen, but only one can take the crown.  Their sixteenth birthday will mark the official beginning of their deadly fight, but as the day approaches each sister must overcome struggles and evil plans for power that's wheels have begun to turn.
Mirabella is an elemental. Her gifts with fire and lightning are talked about throughout the island. But she is cursed with memories of her sisters, and more importantly, a love for them. Although she may not want to kill her sisters, her sponsors have their own ideas.
Arsinoe is a naturalist. She is able to control animals and plants, at least she is supposed to.  Arsinoe cannot use her power, and despite her best efforts cannot find a way to escape the island that surely means her doom.  When Arsinoe turns to dark magic her life and her friends' life begin to take unexpected turns.
Like her sister, Katherine cannot use her powers as a poisoner.  Her sponsors have tried their best to bring up her immunities but it isn't enough. But with a strong blood lust and a skill with mixing poisons, Katherine is determined to win her crown.
When I began this book, I was expecting the dark and bloody work that I associate with Kendare Blake's books. However, three dark Crowns seemed to be a prequel to the darkness and blood. This book was very much a set up book, which could have made it boring and bland, but Kendare Blake is too good of a writer for that. This book was an engrossing and interesting read. I was fully invested with the plot, the characters, and every aspect of the island.
The three sisters themselves were all great characters. Each sister was entirely unique and fascinating in their own way. As soon as I was introduced to them I was hooked. I didn't want any of them to die which kept me on the edge of my seat throughout the story.  Kendare Blake could have easily only allowed the reader into the world of one of them, but instead she gave us all three and left my heart torn into pieces.
But what really made this story were the sister's loved ones.  Many of them got their own points of view, allowing the reader to see into the plots, the plans, and their desperation to save their Sister. Many of them also had double motives and nasty ideas, giving the story some lovely villains, so even when you can't root against any of the sister, you have someone you want gone.
The setting was one most interesting places I've ever read about.  It was almost a character, with its magical elements and it's almost god like stature with the people.  Each part of the island was different, from the down to earth, living in tents, style of the naturalists, to the large, dark manors of the poisoners.  The island was meant to capture the groups and stark contrasts between them, and that is exactly what it did.
When you have an amazing writer, you're going to get an amazing book, and Three Dark Crowns is nothing short of amazing.  It's a story about love, fate, and power, with amazing characters and heart wrenching moments. The end left me with so many emotions and unanswered questions that I know the wait for the next book will be a long one, but a worthwhile one too.
Kendare Blake will be speaking and signing her book at the Texas Teen Book Festival!!
Come Join Us!