Review by Karen
Author(s): Rachael Lippincott, Mikki Daughtry and Tobias Iaconis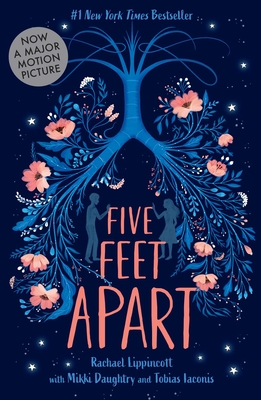 You may have seen the movie trailer for the new movie, Five Feet Apart, staring Cole Sprouse and Haley Lu Richardson. If so you're probably reading this review and thinking "It's also a book?". Yes it's also a book. This is the first time I have ever seen a movie trailer for a book that hadn't even come out yet, so I figured that must mean it's worth a read.
Five Feet Apart is about Cystic Fibrosis patients Stella Grant and Will Newman. I didn't know what Cystic Fibrosis was before I read this book, so I'm no expert on the illness, but here is what I have gathered from reading the book and doing a bit of research on the matter. Cystic Fibrosis is a condition usually found in childhood where you have bacteria in your lungs that leads to mucus buildup and causes difficulty breathing, among other things. The life expectancy for someone with CF is about 37 years, and the best treatment is a lung transplant. Sadly lung donors are few and far between. The most infamous rule for CF patients is the "six feet apart rule". People with CF are supposed to stay at least 6 feet apart from other CFers at all times to avoid cross contamination. If a CF patient contracts any bacteria from someone else with CF it can be fatal.
Stella Grant is a goodie two shoes rule-follower, or at least she seems to be that way to Will Newman. Will is a new patient in the hospital Stella has grown up in, he has Burkholderia Cepacia, which is a complex of bacteria that causes serious risks to CFers' health. Since he contracted B. Cepacia, he was taken off of the transplant list and lost all hope of a cure. His mom continues to force him into new treatments and tests to see if they can find a cure. Stella and Will begin to get to know each other over the course of their time at the hospital, and despite their best efforts they fall in love. The rule stays, they must stay six feet apart at all times. Five feet apart is about a girl who is trying to steal just one more foot, take control of her life, and try to be normal.
This book is perfect for fans of The Fault in Our Stars and Everything Everything. I truly enjoyed reading Stella and Will's story, and I learned a lot about CF. This book consists of a charming love story, a hilarious gay best friend, and an astonishing character arc for Stella. This book will pull you in from the beginning and will take you on an emotional rollercoaster.
By it here: https://www.bookpeople.com/book/9781534437333