Review by Ivy
Author: Shaun David Hutchinson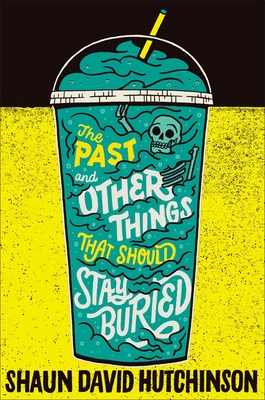 "The nerd in me that needs to understand everything is dying to drive July to a lab and cut off pieces of her to look at under a microscope to see if I can figure out what's keeping her alive, and the poet in me wants to ask her a million questions about being dead so that I can understand how she sees the world and what the stars look like through eyes that once saw what's on the other side of life. But July doesn't need a nerd or a poet. She needs a friend, and I suppose that unenviable job has fallen to me."
Dino is pretty good at doing makeup – doing makeup on corpses, that is. His parents are sure he'll use his natural morticious talent to continue the legacy of the family funeral home when he grows up. Dino isn't so sure, but he still finds himself painting the face of his ex-best friend's dead body one summer afternoon.
July and Dino parted on rocky terms, and before either could make amends, July died. And while Dino is sure his July-inflicted emotional wounds have healed, there must be some reason she decided to come alive while he prepared her corpse. Or, at least, become undead.
Dino and July must race the clock of her rotting body, and as they try and come to terms with the extra time July's been given, both friends have to decide whether or not the past is the real thing that should be dug up.
The Past and Other Things That Should Stay Buried is told masterfully in dual voices, a shorter story that is as frequently philosophical as it is hilarious and my favorite of Shaun David Hutchinson's novels. It's completely different than any other YA book I've read, telling us as little as possible about Dino and July's friendship in the past, introducing us to the characters only as they are now. The way July says Dino 'used to be' when they were friends is just as alien to the reader as it is to Dino, which is a really interesting and effective way to tell a story.
This is one of my favorite books of 2019, and we'll see how the year progresses, but it might be favorite of the year already. A morbid study of a friendship stuffed with bright characters, contained within an awesome cover, written by the author most adept at making me cry while also have an existential crisis, The Past and Other Things That Should Stay Buried is awesomely weird and, if anything, weirdly awesome.
For Fans Of: Pushing Daisies, They Both Die at the End by Adam Silvera, Books That Would Make Fantastic Movies
Favorite Quotes:
"Death is as normal and digestion. People move through life the way food moves through our bodies. Their natural usefulness is extracted along the way to help enrich the world, and when they have nothing left to give, they're eliminated. Much like our bodies would clog up with excrement if we didn't defecate, the world would do the same if we didn't die."
"The boxes that are supposed to help us understand one another ultimately wedge us further apart. Even worse is that we rage against the artificial divisions the boxes create, claim that we're more complex and complicated than how we're defined by others, and then turn around and stuff the next person we meet into one and tape the lid shut. And then, as if the indignity of life isn't enough, when a person dies, we cram what's left of them into one final box for eternity."
Buy it here: https://www.bookpeople.com/book/9781481498579