Review by Ivy
Buy your copy of CAMP by L.C. Rosen from BookPeople!
"'I just feel stupid'

'Not stupid,' George says. 'A romantic maybe. A dreamer.'

'A theater kid,' Ashley says.

'But never stupid,' George finishes."
Randy Kapplehoff is changing things up. He's gone to Camp Outland, a summer camp for queer teens, for four years and been in love with fellow camper Hudson for just as long. The problem is that Hudson only dates masculine guys, so Randy decides to reinvent his theatre, nail polish, and unicorn-loving self into "Del," a straight-acting jock Hudson is sure to fall for this summer. As things grow more complicated then the wacky rom-com Randy imagined he'll have to decide when to be honest with Hudson, and if the guy he changed himself for was truly worth all the pushups.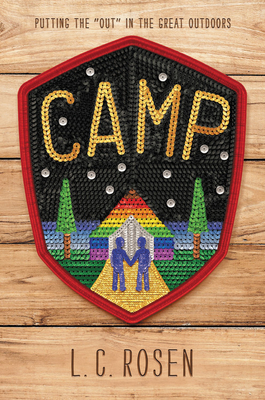 I expected Camp to be fun, however, I did not expect it to pack such an emotional punch. This novel had a message that it may have slammed a little hard on but was nonetheless poignant: being yourself doesn't end with coming out. Camp reminds us that even within safe spaces there are internal (and in this novel's case, external obstacle course) hoops to jump through in order to authentically be you.
"…being yourself doesn't end with coming out."
Overall, Camp was a genuinely funny, tightly crafted, and surprisingly heartfelt novel that expands the queer YA canon beyond coming-out stories. With prose that felt simply adequate, the story was where Camp shone, making it un-put-down-able as both the zaniness and emotionality rose towards the end. Also, the title is a pun, so like, come on.
Rating: four queered productions of Bye-Bye Birdie/five
For fans of: Only Mostly Devastated by Sophie Gonzales, The Fell of Dark by Caleb Roehrig, Felix Ever After by Kacen Callendar
Favorite quotes:
"'You can take the queer out of the theater,"' George says, coming up to us, 'but not the theater out of the queer.'"
"Not many other twelve-year-olds were talking about how dreamy and cute Skylar Astin was in Pitch Perfect 2, and how I hoped my boyfriend would look like him someday, so they thought it would be good for me to meet some other queer kids."
"'I'm as much for wacky hijinks as the next homo, but this feels like a stretch.'"