Review by: Astrid G.
Order your signed copy of Natalia Sylvester's Running from BookPeople!
Running by Natalia Sylvester is a compelling story about finding your voice and standing up for what you believe in. Fifteen-year-old Mariana Ruiz's father is running for President, and his new campaign for the United States presidency is beginning to weigh heavily on Mari. Her actions have an effect on her father's polls, which she realizes only after she makes a poorly timed choice during a live tour of her family's home. An activism group at her school continues to gain influence, and they stand firmly against her father. Doctored photos of Mari herself go viral. All Mari wants is to be left alone. But things don't seem to be getting better.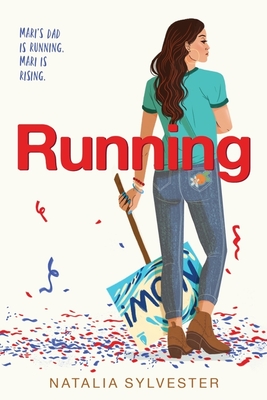 "…will she have the courage to speak up for what she believes in when the time comes, no matter the cost?"
As an unexpected crisis emerges and things grow unsteady both in the political world and in Mari's own family, she slowly discovers that she doesn't agree with many of her father's choices. But he's still her father, her hero. She can't speak out against him, right? But with the help of both new and old friends, Mari begins to realize that having a voice may not be such a bad thing. But will she have the courage to speak up for what she believes in when the time comes, no matter the cost?
Overall, Running was a wonderfully told story. The concept was timely, the plot twists were surprising, and it was political without being heavy-handed. I loved the Miami setting. I really felt present throughout the entire story. A few supporting characters were incredible, such as Vivi, Mari's best friend, as well as Gloria and Amarys, Mari's family's housekeeper and her wife, who prove to be compassionate and smart characters. I was surprised when Mari's mother took a stand near the end of the book. I liked how she had her own voice, though, in my opinion, it came a bit too late. I also felt there were a few too many supporting characters, and Mari's father was a bit too one-dimensional. 
As far as politics go, LGBTQ+ rights, women's rights, and immigration are present, though not beyond mentioning a character's opinions. The main issues in the book concern affordable housing and water. Overall, this is a timely book. The message and election story are perfect for our current political climate. Mari herself was the star. She was kind, witty, clever, and brave, but still had a long way to go from page one to the epilogue. If you want a book that's both heartwarming, deep, and a page-turner, look no further than Running.