Review by Ava S.
Buy your copy of Brandon Sanderson's Skyward from BookPeople!
Oh. My. God. I have found my new favorite book.
First let me start off with the premise: Our main character Spensa dreams of being a pilot, bravely defending her planet against the Krell (aliens who are attacking it) just like her father. Although there is a major problem, her father turned out to be a coward in the time his team needed him most, and Spensa has thus been branded a coward as well. But that's alright, because Spensa is determined to prove them wrong in flight school. Unfortunately, however, when Spensa is finally able to join, she is immediately faced with many challenges including prejudice, abuse of power, death, and the discovery of a new object that she has no idea what to do with… or how to get it to stop talking. This book is full of mystery, friendships, lots of action, and above all, my favorite main character of all time.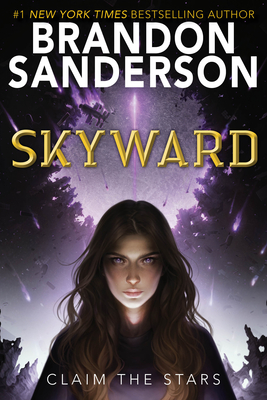 I found Spensa to be a very refreshing main character. She is strong and independent, a trait I am seeing less and less of in YA heroines (don't come at me, I know there are many others but recently I've read a lot of books with annoyingly dependent and weak female Mcs). Spensa is fierce, confident, smart, and never backs down from a fight. Not to mention she talks "like some Valkyrie from a scudding ballad!" She isn't perfect either. Spensa failed just as many times as she won. But no matter what she kept persevering. She's incredibly funny and definitely someone I look up to.
I truly cannot find anything wrong with this book. The other characters are amazingly developed. The plot moved at the perfect pace in which it was impossible to put down but with enough slower scenes so that the reader can really get to know the characters. There were many plot twists and mysteries. The worldbuilding is perhaps not the most unique I've ever read but the planet's history and the way it came to be split up the way it is is very interesting.
The second book is currently out and is next on my TBR. Brandon Sanderson's plan for the time being is to make Skyward into a 4 book series.
 To finish off this review I just want to express that I cannot recommend this book enough! Please pick it up, I promise you won't regret it 🙂
(Some of) My Favorite Quotes:
"That music the water makes," she said. "Isn't it the most wonderful sound ever?"
"The most wonderful sound ever is the lamentations of my enemies, screaming my name toward the heavens with ragged dying voices"
The girl looked at me, cocking her head. "Well bless your stars."
"When this is done, Jerkface, I will hold your tarnished and melted pin up as my trophy as your smoldering ship marks your pyre, and the final resting place of your crushed and broken corpse!"
"You get to choose who you are. Legacy, memories of the past, can serve us well. But we cannot let them define us. When heritage becomes a box instead of an inspiration, it has gone too far." 
"And yet, when you fly, you are amazing. You're so determined, so skillful, so passionate. You're a fire, Spin. When everyone else is calm, you're a burning bonfire. Beautiful, like a newly forged blade."
"Pilots are never 'peachy,' girl. We're spirited." "Or," I added, "briskly energized by the prospect of dealing death to the coming enemies." "Or that," Cobb said. "If you're psychotic."