Review by: Ivy
"'Juliet, it's not that you can't ever go home. The idea is that once you're able and confident enough in yourself to leave, the world changes you, and you're not the same person ever again, and that's the beautiful part.'"
Juliet Palante loves her family, but as she discovers herself as a lesbian, a feminist, and a Puerto Rican she has questions that can't be answered at home in the Bronx. So, when Juliet's application to be an intern for the author that opened her eyes is approved, she excitedly sets off to Portland. But things don't go to plan when her coming out ends in heartache, she starts to fall for a hot librarian, and her boss seems like she might not be as brilliant as Juliet thought. Feeling lost and far from home, Juliet struggles to find her place, forcing her to reevaluate what she wants and who the right people are to help her get there.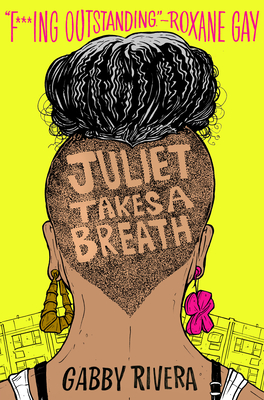 I was unknowingly already a big Gabby Rivera fan since I love her America comics for Marvel. I recognized the DNA from America and so much more in Juliet Takes a Breath, a familiar ferocity matched with questions of identity and home in the modern world. This novel is completely unique, pounding out a story that wraps fantastically sweet prose with a smart plot and brilliant characters.
"…a familiar ferocity matched with questions of identity and home in the modern world."
Juliet herself is relatable to anyone who's had their confidence shaken while trying to learn. Her curiosity is admirable as she stalwartly seeks out answers. I'm both inspired and awed by her because I am someone who often assumes answers to questions instead of seeking official answers. This book calls me to do many things, but most significantly to not be afraid of seeking answers that can only help me grow.
Overall, Juliet Takes a Breath is a strong, inspiring, fun, and heartfelt debut novel from Gabby Rivera that spreads the ever-important message to never close yourself off from change. This book is one of the few that makes me feel like I am glimpsing the beautiful future of YA where authors can write their hearts without having to follow any typical formula.
Rating: five dance party undercuts/five
For fans of: Full Disclosure by Camryn Garrett, Not So Pure and Simple by Lamar Giles, Felix Ever After by Kacen Callender
Get your copy of Juliet Takes a Breath here!