Review by: Zoë D.
"What the hell are you keeping under that shirt? Rocks?"

Aurora Rising, Amie Kaufman & Jay Kristoff
The year is 2380, and the Aurora Academy cadets are prepping for the Draft. Unfortunately, Tyler Jones (Alpha), misses it to save Auri O'Malley, a girl who's been in a cryo-pod for the past two-hundred years. Now his team consists of his twin sister, his best friend, a sociopath, a know-it-all, and a member of an enemy alien race.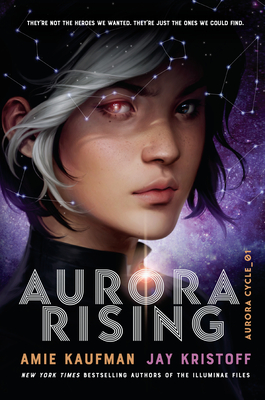 Meanwhile, Auri has realized that everything she knew is gone and her cryo-pod's intended destination is now considered forbidden. To make matters worse, Tyler and his team have been faced with the task of saving the universe from inter-galactic war.
Aurora Rising by Amie Kaufman and Jay Kristoff was amazing. It only took a couple of nights to read, but I laughed a lot. It's great for sci-fi lovers. If I haven't convinced you, the book trailer, below, was hilarious.
I'm also excited because according to Amie Kaufman, it will be a tv show!