Review by: Andi P.
I was blown away by Legendborn! Tracy Deonn intricately crafts Arthurian legend into modern-day society, and it's filled with incredible characters.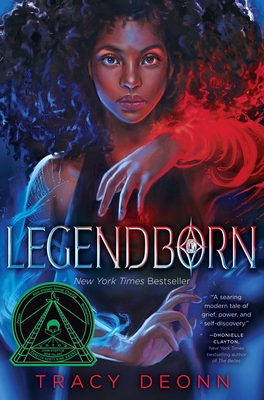 Sixteen-year-old Brianna Matthews grieves from her mother's sudden death in a car accident. Months after her mom's death, she and her best friend Alice attend Early College at UNC. Bree witnesses a magical attack on her first night on campus and encounters the Legendborn society- a secret society based on King Arthur's legend. After a Merlin tries and fails to alter Bree's memories of the attack, it resurfaces a memory from the night of her mother's death, where another Merlin had tried to change her memory. She is convinced this buried memory is connected to the Legendborn society. With the help of her new friend Nick, an exiled Legendborn, Bree goes undercover in the Legendborn society to find out the truth of what really happened the night her mom died. She immediately finds herself immersed in this magical society, filled with mystery, danger, a looming supernatural war, and possible answers for her mother's death. 
"The mystery and constant action entranced me, and the unexpected twists and turns kept me turning page after page."
Legendborn was unlike most fantasy books I've read. The world-building was incredible– Deonn weaves a modern-day society with a magical community hidden from human sight. She blends Southern Black American history and Arthurian legend in such a unique way. Understanding the hierarchy of the Legendborn was a bit complicated at first, but as the book progressed, I was quickly able to follow along. The mystery and constant action entranced me, and the unexpected twists and turns kept me turning page after page. 
In this book we see Bree, a Black female character, deal with constant internal and external conflict throughout the book. Bree deals with racism, grief, and trauma, all while still trying to find herself. She is a very determined and lovable character, and I was always rooting for her. Not only was Bree an amazingly written character, but the side characters were equally lovable and incredibly diverse. 
Overall, I cannot express enough how much I loved Legendborn! It's a must-read for fantasy and mystery lovers alike. This is my favorite read of 2020 so far, and I cannot wait to see what Deonn has in store for the sequel.
Pssst– Get your copy of Legendborn here! And stay tuned… we have an interview with author Tracy Deonn coming soon!