Review by: Zoe D.
I loved The Raven Boys by Maggie Stiefvater. The characters were absolutely amazing. From Blue and Maura or Ronan and Chainsaw, I was fascinated by them.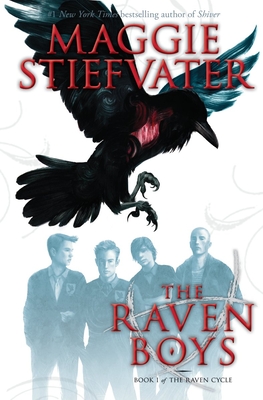 Since the day Blue Sargent was born, she's been told that if she kissed her true love, he would die. A completely normal thing to hear when her entire family is made up of psychics. The story begins at the restaurant where Blue works. She's used to the rich Aglionby boys who often crowd the place. Blue despises them given that she's a raging feminist. Her day only gets worse when Richard Gansey III asks her to "talk" to his friend Adam. After a long discussion over the definition of prostitution, Gansey and Blue finally become friends. The plot thickens as Blue learns that Gansey is obsessed with finding Glendower, the supposedly long deceased Welsh king. Later on in the series we get even more development, including being introduced to Mr. Gray, the hitman whose true passion is poetry.
No spoilers!
I'd recommend this book to anyone willing to read all four books in the series! It's very similar to Six of Crows, and Maggie Stiefvater has written tons of other books if you ever get bored. I'd rate it five tarot decks out of five.
Zoe's Favorite Quotes
"It was all Henrietta sunset: hot front-porch swings and cold iced-tea glasses, cicadas louder than your thoughts."
"The shadow of the telescope was an elegant monster on the floor beside him."
"I would look like a crazy person. What good would it do? What could I possibly say?"
" 'Oh, go to hell,' Ronan snapped, just as the altar boys broached the rear doors.
'Guys,' Matthew pleaded. 'Be holy.'"