Review by: Ivy M.
I'm not sure what just happened, and I'm thinking that maybe if we just eat donuts for a while, I can go back to my life and try again.

The Bridge, Bill Konigsberg
Bill Konigsberg's The Bridge is far and above anything I expected it to be, both based on his past novels and the history of YA books about suicide in general. This novel isn't frivolous, but neither is it trope-y, triggering, or inaccurate like most other depressed-teen-related fiction. The clean balance in this book is mature and fresh, keeping the reader committed to the story without drowning them in despair.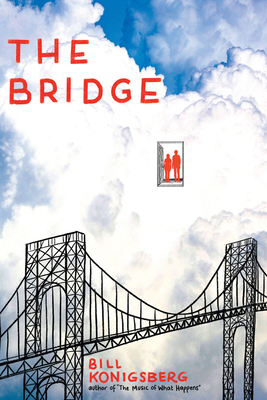 "…a YA novel that just works so well and has so much heart I can't help but love it."
The concept that keeps The Bridge hopeful is its simple structure: one character jumps, both jump, neither jump. The section revolving around the lives of the characters after neither jump is appropriately the longest, tying up loose ends introduced in alternate scenarios while also exploring the blossoming friendship and possible future of the kids. 
In our post-John Green world authors have learned love isn't always enough to conquer all, and Konigsberg recognizes this by writing a relationship that is another point of tension in the story as opposed to being what entirely saves the day. Aaron and Tillie's friendship feels inevitable by the time the two characters finally get to meet, but it isn't always smooth sailing. I'm amazed by how much insight I was able to get into these kids in this fairly concise novel, and I think the immense character work put into Tillie and Aaron is what makes the novel soar above all else.
Overall, The Bridge is a kind of modern teenage It's a Wonderful Life (if it actually discussed mental health as opposed to… angels?) that kept me invested from start to finish. Konigsberg has grown greatly both in the quality of his writing as well as in the depth of his characters, producing a YA novel that just works so well and has so much heart I can't help but love it.
Rating: five/five, dude.

For fans of: The Past and Other Things That Should Stay Buried by Shaun David Hutchinson, Darius the Great Is Not Okay by Adib Khorram, History is All You Left Me by Adam Silvera