Review by: Rebecca C.
Get your copy of This Song Will Save Your Life here!
As a mainly sci-fi, fantasy, mystery, etc. reader, I am deeply surprised to say that I love This Song will Save Your Life by Leila Sales. Realistic fiction is usually not my thing, but this one caught my eye during my first year of attending the Texas Teen Book Festival. Well, here we are, 2 years later and I have finally finished the book. And I have to say, it was truly amazing.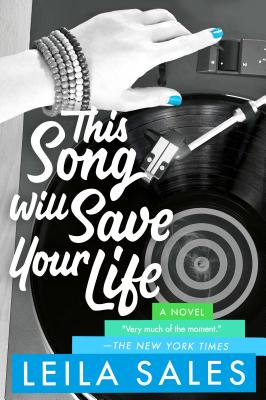 Elise Dembowski starts out as a girl who practically has no friends. She loses hope in life after her attempt to change herself to fit "the norm" fails. This fragile, vulnerable character caught my attention as a person who has had similar thoughts roll through their mind. Leila Sales has made a raw character that shows us that life is worth living. In contrast, by the end of the book, Elise has changed dramatically. I won't give any spoilers, but here's a hint: She finds out her passion as a DJ and learns things that make her the insanely confident character you will grow to know and love. When Elise's true character got revealed underneath the shell, I was astonished. Even if you don't like realistic fiction, Leila Sales might just change your mind.
I would also recommend this book to all of you music fanatics out there. The number of songs listed in this book is more than you could count. The music aspect of the book was not just the icing on the cake, but literally a whole tier. Especially when everyone is dancing to the songs —mwah—perfect. I literally felt the energy of every single person in that room because the imagery was so strong in those scenes. (There's also a list of recommended songs at the end). I might have even have taken out my records from the closet.
The first person perspective adds to Elise's rawness. It shows her desperation, happiness, sadness, anger, longing, and change throughout the book. It is especially pleasing when she acknowledges her own character development!
This Song Will Save Your Life includes themes and concepts of night-life, music, finding and accepting yourself, what a true friend is, hope, and high school. You should definitely check out this book if you are interested in realistic fiction, music, character development, romance, or even just a simple YA novel.
Overall I would give this book a rating of 5/5 DJ mixers for having energetic scenes, music,  intriguing character development, and normalizing divorced parents. I loved how the main theme was about accepting yourself, and that it didn't fully focus on romance. So, if you're lost in the land of books, I've heard that this path is even better than the yellow brick road. 
Favorite Quotes:
"Because throughout it all, you are still, always, you: beautiful and bruised, known and unknowable. And isn't that—just you—enough?" (p. 274).
"She strutted around the stage like Tina Turner on steroids" (p. 268).
"Some people were so nice to you, simply because they liked you" (p. 175).
"Why is it always like this? my brain kept repeating. Why are you always like this?" (p. 144).
"But also—and this is pathetic—there was some part of me that couldn't give up on the dream, the dream of friendship between me and this normal, nice, happy girl" (p. 141).