Review by: Rebecca C.
Order your copy of LOVE & OLIVES here!
Liv, a high school art-loving girl whose father left her in search of Atlantis lives with her mother, step-father and brother. She has a boyfriend named Dax, and they are completely polar opposites. He loves running, and she loves art. But just as Liv is going to go on Dax's senior trip, she gets a postcard from her dad, who wants her to help with a documentary on Atlantis in Greece. She's furious, of course. Why would he wait this long to reconcile with her? She's already past that. Liv's mom makes her go anyway, and along the way Liv finds her true self, and meets so many new people, including her co-producer, Theo. Come along on her lustrous journey in Santorini, Greece!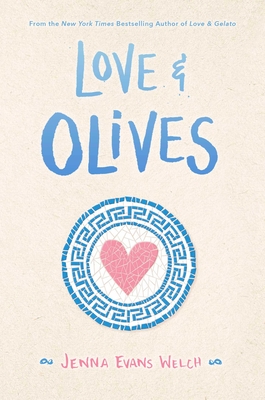 I relate to Liv in so many ways. First off, I love it when she envelopes the Parisian girl aesthetic! As a dark academian, this is heaven. Secondly, she has this shell that can be extremely relatable to. Liv has this shell to try to fit in and appear "perfect." Which can be helpful, but also leads to identity crisis sometimes. 
You will fall in love with Theo. His background of different countries is so intriguing, and he has witty humour that makes you laugh and face-palm at the same time. Theo is just one of those characters that you will never forget.
The storyline consists of 26 chapters with a total of 500 pages. I loved the character development, but the plotline gets slow in the middle. I was speeding through it until around page 300, where the reading felt very sluggish and repetitive. It's definitely worth it for the last part, though!
Even though this book is a realistic fiction romance, it also has some adventure to it. The search for Atlantis is captivating, and I learned a lot. The imagery of Santorini is to die for as well. If it weren't for COVID, I would be booking a ticket right now! It's so captivating.
The themes of acceptance, identity, family, and romance will have your heart raw by the end. I give this book 4/5 Plato dialogues for an unexpected ending, heartwarming scenes, and Liv's dedicated journey.
My Favorite Quotes:
"I am not a runner. Or a biker. Or a cross-country skier. And I'm definitely not a morning person. I am an occasional Star Wars-quoter, a collage artist, and a friend to all house plants."
"I inhaled, feeling my muscles loosen. I'd never consciously realized that old books had a smell, but of course they did. It was old leather with hints of vanilla and must, and a dash of something else. Magic? Pixie dust?"
"Olive the Conquer has invaded."
"Well . . . I swear in French, talk to my grandfather in Greek, but feel most comfortable in English."
"All Hail the King of the Long Shot."
"Kalamata, no one knows what they're doing. It's called life."
"How old are you anyway? Like forty? What was it like to have a pet dinosaur? Did it ever bite you?"
Order your copy of LOVE & OLIVES here!