Review by: Ivy
"All fairy tales have some grain of truth. Picking apart that truth from the lies can be tricky, though."

Kalynn Bayron, Cinderella is Dead
Buy your copy of Cinderella is Dead here!
Sophia has no intention of becoming the next Cinderella. Although her kingdom is built around the tale, she's seen how the strict rules have hurt her people. Now that Sophia is sixteen it's her turn to attend the ball, where she'll be expected to find a husband and be a dutiful wife for the rest of her days. After a daring escape, Sophia runs into the mysterious (and beautiful) freedom fighter Constance. Together the girls embark on a quest to defeat the king and finally free the women of Lille from "happily" ever afters.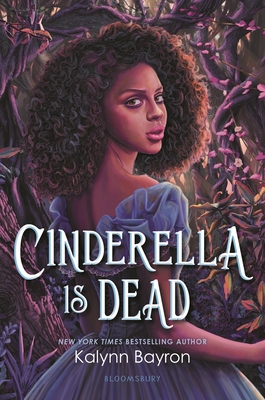 Cinderella Is Dead reinvented the fairytale the way it ought to be done. It throws the glass slippers out the window and immediately gets to the root of the story's problems, using a familiar tale as a clever hook into showing us its dark side. Often retellings don't actually break down the elements of their inspiration and instead rely on its tropes to guide the reader through, but this novel creates its own story within the shadowy framework of the original.
The lushness and detail of Cinderella Is Dead was a welcome surprise. Often YA novels don't hit the deep descriptive note that I really enjoy, but this one certainly does. Since most of the story takes place in a forest brilliant descriptions of trees, flowers, lakes, and moonlight are bountiful, giving the book an appropriately magical fairytale feel amid the dark and dramatic conflict.
"this novel creates its own story within the shadowy framework of the original…"
Although the plot and continuity in Cinderella Is Dead isn't always strong, the emotional connections kept me invested. There's the blooming romance with Constance, the angsty conflict with Erin, the sweet friendship with Liv, and the genuinely melancholic relationship Sophia has with her parents. Each of these threads are very nicely introduced and developed throughout the novel, Sophia's emotional complexity keeping me tied to her story.
Overall, Cinderella Is Dead is a deeply atmospheric, emotionally intelligent, and rebelliously queer take on a dusty Disney-fied classic. Sophia is both a relatable and admirable main character who tackles injustice while finding love in the darkest of times. Most importantly this novel is sincere, something we can always use more of in the YA market.
Rating: four necromantic ceremonies/five
For Fans Of: Cinder by Marissa Meyer, Shatter the Sky by Rebecca Kim Wells, The Belles by Dhonielle Clayton
Favorite Quotes:
"'The truth is tricky. People want to know it, but when they do, sometimes they wish they didn't.'"
"'That's how things happen sometimes,' Constance says thoughtfully. 'Something small. A choice we make because, in the moment, we needed to make it. But that doesn't mean it's any less important. I believe that things happen for a reason, Sophia. If you hadn't left that ball when you did, we never would have met.'"
"'I lost myself in caring for you. I cared for you so much I forgot that I deserve to be happy too. I'm sorry you don't believe in me.' She bristles. 'I'm sorry I couldn't save you.'"