Review by: Colleen W.
Get your copy of A VOW SO BOLD AND DEADLY here!
---
*Note: This review will be spoiler free, but WILL contain spoilers for A Curse So Dark And Lonely and A Heart So Fierce And Broken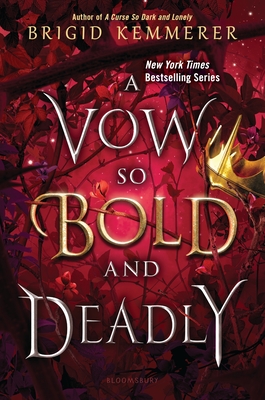 Welcome back to my discussion of Brigid Kemmerer's bestselling trilogy. The final installment of which, A Vow So Bold And Deadly, recently released. I got my hands on an ARC and, as I did with the two previous books, sped through it. After taking some time to let the finality of the book process, I've come to present my final thoughts.
Before continuing, don't forget to read the reviews for the previous books in the series by clicking here and here.
First things first, this book captured me from the very beginning. Immediately returning to the devastating aftermath of the second book draws you in instantly and has you feeling for each character's struggles. I had all the emotions I missed from the series from giddy to frustrated, from sad to satisfied. A Vow So Bold And Deadly did virtually everything I hoped it would to complete this trilogy, and overall I really enjoyed the way the story unfolded!
This book moved along quickly, keeping constant action and tension. While I appreciated the pacing of the story, there were moments where I wished we could have slowed down and dug deeper into characters or just to really absorb the impact of a major event.
My mixed feelings about the speed of the book continued as a trend. I was excited to see how our expanded cast of characters would interact and evolve in this epic conclusion, and I feel like I could have used one or two more books to really explore that. This final focuses mainly on the relationship between Grey and Rhen, so while that was satisfying to work through and eventually bring to a conclusion, I missed the complexities of the supporting characters.
That being said, every moment other characters did have was great! Harper, Lia Mara, and the rest of our crew from both Emberfall and Syhl Shallow all acted in good accordance with their arcs and developed in the ways I hoped coming out of the previous book. Again, I simply wish I had gotten to read more!
The other aspect I loved was the base conflict. Emberfall vs. Syhl Shallow, Rhen vs Grey, and even the inner conflicts and growth each character underwent. The incredible journey of the kingdoms and the men and women ruling them entertained me immensely and I was invested from start to finish, unsure of who to root for and filled with hope for peace nonetheless. 
Overall, I highly recommend A Vow So Bold And Deadly and this entire trilogy! It's fast paced and filled with adventure that will keep you enticed from beginning to end. A tale of relationships, from romance to friendship to brotherhood, this book explores every one and pulls your heart into each interaction. If you're looking for the perfect book to help you out of a slump and give you all the feels, this is the way to go.