Review by: Rebecca C.
Get your copy of House of Hollow here!
To put it this way, Iris Hollow and her sisters, Grey and Vivi, are truly not like the other girls. It all started when they were kidnapped on a street in Scotland, only to return with zero memory of what happened to them. Ever since that moment, obscure and strange things have occurred in their lives. People have been following them, their physical appearances have been slowly changing, and they have this unnaturally strong persuasive power over everyone else. Fast forward to ten years later, to our main character, Iris, who is trying her best to lead a normal and successful life in her love of books and learning. Grey and Vivi have already dropped out of high school, one running an internationally-famous clothing line and the other being in a punk rock band. Everything is going somewhat okay, until Grey goes missing. As Iris and Vivi follow the trail of clues that Grey has left behind, they discover that there is another person trying to find Grey for bad reasons. To make it more interesting, with every clue they find, Iris and Vivi step more into Grey's world that has been scratching the surface of the supernatural.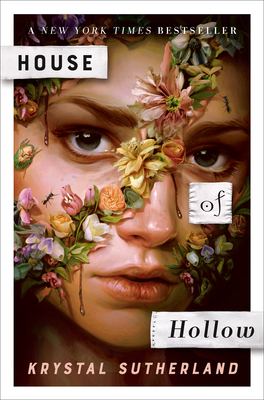 Iris is a character that doesn't fully develop until the very last chapters. She is very shy as she is used to the protection of her older sisters, which contrasts to a lot of other characters in House of Hollow. Additionally, Iris is a huge nerd that tutors younger children lots of subjects including python. This doesn't add a lot to the plot as a whole, but it contrasts Iris from her sisters that dropped out to seek unconventional jobs. I loved seeing Iris develop as a person especially because her shyness was a bit annoying at the beginning. She learns a lot about who she is and who she wants to be.
Vivi and Grey are my favorite characters in House of Hollow. Grey is composed in the way that she is the one who plans everything out. She is the eldest sister of the three and keeps the group in line. Vivi is chaotic in the way that she disappears out of frustration and comes back the next morning with a hangover. She is the middle sister of the three and keeps the sarcasm flowing. I love them both a lot because they are such juicy characters that not only have extremely deep flaws, but also inspiring characteristics.
This book was a medium read at 304 pages, and it was just the right length. The only criticism that I have is how late the true action comes in. Other than that, I enjoyed Sutherland's writing style a great deal. I appreciated the little details of imagery and concepts that left me thinking, "Wow, that was a great sentence." 
You should definitely check out House of Hollow by Krystal Sutherland if you are looking for a dark fantasy (or fantasy in general). Dark fantasy is one of my favorite types of genres, and this book probably made my love for it go up. It has a nice blend of real-world and other-worldly scenes. You should also read this book if you are looking for characters that are brought up to their fullest potential. I have recently found it hard to find books that do this, so I was excited when Sutherland lived up to my expectations.
Overall, I would give this book a rating of 5/5 white flowers for juicy characters, Grey's room decor, a music aspect, and its ability to pull you in. 
My Favorite Quotes:
"That's the way it was with Vivi and Grey. All it took was one phone call from them for the strangeness to start seeping in again."
"For much of my life, she had been a watercolor of a woman, sapped of vibrancy."
"She slammed through the world, a tornado in the form of a girl, and left a trail of destruction behind her."
"'And that's why you'll never be part of the Illuminati.'"
"'I think you meant to say 'genius rock goddess sister,' but okay,' Vivi said."
"No doubt she'd written an essay about it when she was supposed to be studying for something else."
'"'All part of my image, Little Hollow. Bad-boy swagger. I'm actually very deep.'"
"'You Hollows always seem to have a plan.'"
"We would forget that impossible things were possible. It was now or never. It had to be."
"'Can I leave you behind if you die or do you expect me to be heroic and drag your corpse home?'"
"Nothing was ever simple with her, nothing was ever what it seemed."