Review by: Colleen W.
Get your copy of Instant Karma from BookPeople!
My heart. That could be the whole review right there. Though I see how my inability to compile my wonderful feelings about this novel into words would be unhelpful to you all, so I will scribe the joys of my soul to the best of my ability.
Marissa Meyer's newest novel Instant Karma follows overachiever Prudence Daniels in her small coastal town. Ever the judgmental perfectionist, it's only fitting when Prudence finds herself with the ability to bestow instantaneous punishment and rewards unto the other residents of Fortuna Beach. However, Pru's karmic justice always backfires on none other than Quint Erickson, her lazy, annoying, arrogant biology lab partner… or so it seems. When Quint and Prudence find themselves facing a failing grade and a summer of renewed partnership, Pru discovers the lines between right and wrong, virtue and vanity, and love and hate are not so clear as she thought.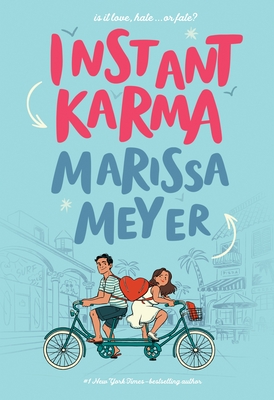 Beginning with characters, Marissa never fails to deliver thoughtfully crafted and well rounded people for us readers to root for. She approaches Pru's perfectionism in such a relatable way, a lens that shows how much she fears the stereotypes around her while also highlighting her confidence in who she is. It is easy for an "in charge" character like Pru to be seen as annoying, a perspective shared through Quint's eyes, but Pru is written as more than a boss and Marissa rightly advocates for balance between work and play. Not only were Quint and Pru fully fledged and incredible to laugh and argue alongside, but all the members of the Daniels family and cast of friends and beach residents felt tangible. I was engaged in each character's dynamics.  From Prudence's interactions with her twin brother Jude and best friend Ari to Quint's conversations with other students at school, I truly understood each character's personality and goals. I loved having such a personal connection to the outcomes of everyone's individual plotlines within the overarching story.
As a whole, the book intertwines characters and the "instant karma" power beautifully. The plot flowed with a good pace and while some of the twists were predictable, the writing delivered the action so well I had loads of fun reading and anticipating Quint and Prudence's next challenge. Marissa certainly knows how to bring magic down to earth and the power element added to the depth of the story rather than take away from it.
"Marissa certainly knows how to bring magic down to earth…"
The heart, soul, and gold of this book is the dialogue. I laughed out loud countless times, got giddy, anxious, sad, and furious throughout. I loved Quint and Prudence's conversations. They were so raw and revealing and funny in their interactions and the journey they undergo together is incredibly satisfying. The book is the epitome of witty banter and I am here for it. Overall, Instant Karma is everything I love in a contemporary book: unique characters, complicated family dynamics, hilarious banter, and an unexpected, feel-good love story.
Without a doubt this book receives 5/5 stars and a glowing recommendation for your first summer read from me. I enjoyed every page of this book and savored a story centered around such fantastic characters and themes of change, understanding, and advocacy. Instant Karma truly tackles the importance of listen first, judge later, and reveals the passions people hold beyond initial impressions.