Review by: Ivy
Get your SIGNED COPY of Pumpkin' here!
"And now I don't know where I'm going or who I want to be and I made that stupid video and what if that's all anyone ever knows me for? What if I'm always that fat gay kid with the embarrassing video who ran for prom queen?"
---
Waylon Brewer is Clover City's biggest fan of Fiercest of Them All, a massively popular drag competition show he'd kill to be on one day. But when he films an audition tape that manages to get out to the whole school Waylon just wants to hide in his room forever. The taunting culminates in his nomination for prom queen, along with resident butch Hannah as king. At that moment, Waylon makes the decision that all Julie Murphy protagonists must make at one point in their small town lives: go big or go home.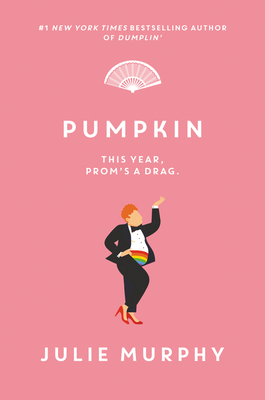 Pumpkin is a natural extension of Murphy's Clover City universe. The weaving in of Dumplin' and Puddin' characters is practically seamless and adds to the story rather than detracting like cameos tend to do. That said the new characters stand strong on their own, being some of the most complicated she's ever written and therefore my favorites. Their struggles and drama are relatable and topics not previously explored in her novels.
The book has a wonderful balance of sweetness and emotional depth, keeping the fluffy antics expected of a YA contemporary while still including the less often seen emotional punch to keep the reader invested. Pumpkin surprised me in this way and it's impressive that Murphy can continue supplying sincerity in the third novel in a series. I would've preferred just an inch more of emotional resolution to make the book feel truly complete, but it still delivered more than I'd expected.
Overall Pumpkin is a fun and satisfying read for Julie Murphy fans and though it's billed as a conclusion I wouldn't be surprised if we return to Clover City someday. Waylon and Hannah are an unexpectedly perfect pair that explore a sweet facet of queer friendship. I'm still mourning that the book wasn't able to be titled "Punkin'," but it shines regardless.
Rating: four perfect proms/five
For fans of: Only Mostly Devastated by Sophie Gonzales, Camp by Lev AC Rosen, Hot Dog Girl by Jennifer Dugan
Get your SIGNED COPY of Pumpkin' here!