Review by: Andi P.
Get your copy of Counting Down with You here!
Karina Ahmed is a Bangladeshi-American teenager. She loves to read and write, but her parents are insistent that she become a doctor. When her parents take a month long vacation to Bangladesh, Karina finally has some relief from her parents' weighing expectations about her education and her future. When her English teacher asks her to tutor Ace Clyde, her school's notoriously mysterious bad boy, Karina has no choice but to accept. All in quick time, she becomes his friend, and then they are "fake dating." Meanwhile, the days start ticking down before her parents' return.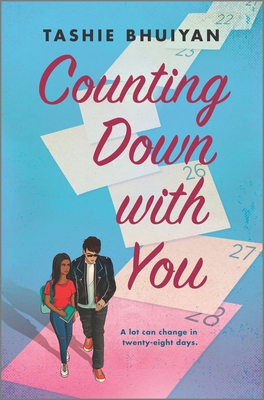 I loved this book!! Karina is a Bangladeshi Muslim girl struggling with her parents' strict expectations. She is yet another strong and brave heroine that is written so painfully real. Karina deals with anxiety, and as I struggle with anxiety myself, I really relate to her emotions, thoughts, and different methods to help ground her. Along with the great anxiety representation, there's a lot of Bangladeshi culture entwined throughout the book, which is refreshing to read. There's a diverse list of side characters as well, and I enjoyed reading relatable text messages from Karina and her friends. Most notably, Karina's grandmother, Dadu, was Karina's rock throughout the book. Despite Karina not having her parents' approval, Dadu continued to love and support Karina, and I enjoyed reading about a heartwarming grandmother and granddaughter relationship.
Lastly, the romance: Ace Clyde is everything you could ever wish for in a boy, and he constantly sees the light in Karina and respects her. He's also a well fleshed out character, and his story is equally as entertaining. Ace makes such sweet gestures, and I was pretty much swooning the entire book. I literally got butterflies whenever Karina did! And the poems! I loved how Bhuiyan included Karina's poems throughout the book. They were all such beautifully written pieces, and highlighted Karina's love for writing.
Overall, if you're looking for a raw, funny, and insightful romantic contemporary novel- This book is for you! 5/5 stars!