Review by: Andi P.
Get your copy of Beach Read here! Please note, the book is an adult romance novel and recommended by the reviewer for readers 16 & up.
If you are looking for the perfect summer read, and want a book for the beach just as I did, I highly recommend Beach Read!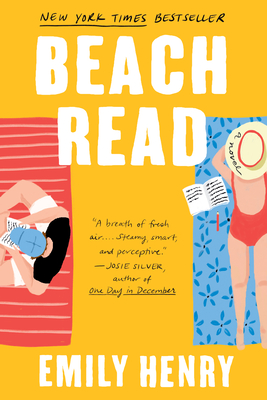 Beach Read is a contemporary romance novel following January Andrews, an author of romance novels, and Augustus (Gus) Everett, an author of fiction novels. Both January and Gus have writer's block and are dealing with obstacles in their lives. When January moves into the beach house next door to Gus, the two meet and make a deal: January will attempt to write what Gus' novels follow- fictional books with tragic endings, while Gus will write a romance novel. Beach Read follows the gradual friendship and romance between the two characters as they both work on their novels.
January is having a rough time. She's mourning her father's death, getting over a breakup, and is in a writing slump. Because her life has taken a turn for the worse, she can't seem to write a happy ending for a romance novel she no longer wholeheartedly believes in. So, she isn't hesitant to engage in this deal with Gus and explore writing literary fiction instead. On the other hand, Gus is a well renowned author who is struggling to write a new book, and he is dealing with a complicated past relationship. The two characters are clearly not in the best place, but they instantly form a connection and support each other throughout the book. Although they were rivals at first, their friendship grows to be a very real and swoon worthy romance.
Emily Henry has a way of writing characters and stories that pull the reader in from the start. Her descriptions of the beach town were so detailed that I felt like I was there. I also love how fleshed out her characters are. I felt like I knew January and Gus through and through. There is more to their relationship than your average rom-com couple, because they deal with loss and grief. This book was addicting- I literally didn't want to stop reading. However, as it is technically an adult novel, I would recommend it for more mature teenagers (16+). Overall, I highly highly recommend it!