Review by: Ivy M.
Get your copy of Rule of Wolves here!
---
"The world might crumble, but Nikolai Lantsov would be holding up the ceiling with one hand and plucking a speck of dirt from his lapel with the other when it all went to ruin."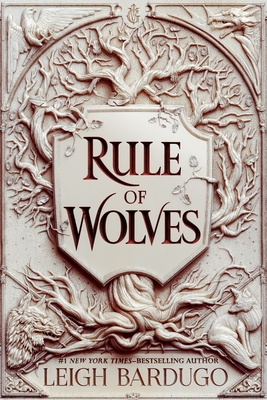 I came to Rule of Wolves a few months late, wanting to re-read the rest of the series first (both out of nostalgia and because I didn't remember King of Scars at all. It's been two years, alright!) The hype for the novel died down as the release of the Netflix show became the hot new thing in the Grishaverse. Along the way, I had the odd plot point spoiled, but nothing could've prepared me for this nearly-600 page epic.
It is an oft-repeated but endlessly true observation that Leigh Bardugo's writing improves with every book she writes. And while Crooked Kingdom remains my favorite of her novels, I have to admit that Rule of Wolves outshines it, as well as its predecessor King of Scars, in regards to lush fantasy scope. Bardugo cleverly juggles twisting plotlines in a balance that keeps the reader always entertained but never confused.
Amid all the fantasy epic, Bardugo has managed to fit in plenty of wishlist-by items, like a detailed visit to Shu Han, a confrontation with the past for Nina, an extended cameo of five fan favorites, and a ridiculous but nevertheless exciting cliffhanger ending. I'd got nothing against a good callback, and the ones of Rule of Wolves stay fun without distracting too much from the task at hand.
Surprisingly to me, one of my favorite features of the book was Bardugo's capture of early 20th century-style industrialization, especially in regards to warfare. One of the reasons I like it is because it's new. I've never seen World War I fought in a fantasy setting before, and though my favorite YA characters discussing the ethics of missiles might've been a little jarring, it instilled the uniqueness of the period Bardugo's chosen for her Grishaverse stories.
Overall, this is a blockbuster of a book, but it's a really, really good blockbuster. Threads introduced from as far back as Shadow and Bone are tied into a neat (blue ribbon) bow, with plenty of space left for future ventures. Rule of Wolves is a weird, bloody, and tense war story, with plenty of magic and kissing and political intrigue to keep it entertaining to the teens. Rating: five improbable plot twists/five