Review by: Ivy M.
Get your copy of The Passing Playbook here!
"As if Spencer's thoughts were sending out a homing beacon, Justice looked over in his direction, making eye contact, and Spencer understood what Gimli saw when he gazed upon Galadriel. But, no. Just no. He hadn't even known this kid existed five hours ago. It was scientifically impossible to develop a crush in that amount of time, right?"

The Passing Playbook, Isaac Fitzimons
Spencer Harris just wants to play soccer. His team is great, his coach is smart, and they're set up to win the championship. However, there are two important details: first, Spencer's parents didn't want him to join the boy's team, to keep him safe from transphobic bullying. Secondly, his teammate Justice is dangerously cute. As these issues escalate and collide, Spencer balances love and friendship all while keeping his eye on the ball – thing is, will he be able to score?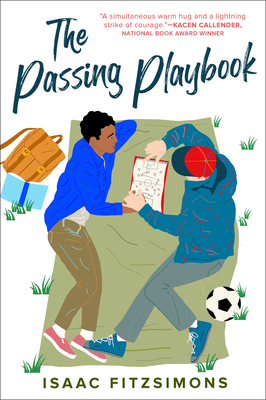 The Passing Playbook charmed me right off the bat. From Spencer's earnest and passionate voice to multiple clever Lord of the Rings, Star Trek, and Marvel references, I couldn't resist this sweet little story. Rarely have I fallen in love with a novel so quickly, and feeling that spark made this book like no other. From beginning to end Playbook kept me invested and entertained, embodying what I strive for when reading contemporary YA.
Overall, The Passing Playbook is an instantly lovable and sweetly romantic novel packed with soccer action. Spencer's love interest is one of the best I've ever read, their eventual relationship made obvious right at the start, but with enough drama along the way to stay exciting and emotional. Playbook is the best of its form, leading to a reading experience that was nothing but joy.
Rating: four Wesley Crusher look-alikes/five
For fans of: Darius the Great Is Not Okay by Adib Khorram, Running With Lions by Julian Winters, Felix Ever After by Kacen Callender