Review by: Astrid G.
Get your copy of Aristotle and Dante Discover the Secrets of the Universe here!
*contains spoilers*
---
"Wake up, El Paso! It's Monday, June fifteenth, 1987! 1987! Can you believe it?"
I first started reading Aristotle and Dante Discover the Secrets of the Universe late at night on a winter day in Austin, Texas, 2020. The day had been long and tiring, but I couldn't seem to fall asleep. When I finally gave up and grabbed the brand-new book on my shelf, I thought I would read only a few chapters. I was wrong. From the moment I opened the book, I was caught up in 1987 El Paso, in the world of Aristotle Mendoza. I finally fell asleep 359 pages and four hours later, certain I had just finished one of the best books of all time.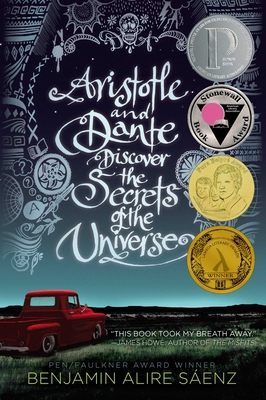 Aristotle and Dante Discover the Secrets of the Universe is the story of two boys, Aristotle 'Ari' Mendoza (our narrator) and Dante Quintana. The book begins in the summer of 1987 when the boys first meet, and ends a little over a year later. It tells both the story of the boy's friendship and eventual romance, as well as Ari's personal growth as he deals with family secrets, legacies, and his own identity.
Ari and Dante, as my sister and I lovingly call the book, is an incredible read for many different reasons. The characters are clearly the heart of the story – not just Ari and Dante but also their parents and friends. Every single character feels real and interesting. Dante is such a kind, silly, and honest character that you can't help but love him. But it's really Ari who steals the show, with his cynical worldview and constant wondering. Ari and Dante is a story with a relationship at its heart and author Benjamin Alire Sáenz did a perfect job of letting Ari and Dante's personal journeys come together, clash, then help the other person grow.
I couldn't talk about Ari and Dante without mentioning Ari and Dante's very different journeys regarding sexual identity. I love how the author shows this because it's a really inspiring and important messages: many people struggle with figuring out their identities in different ways, and that's okay. Ari and Dante have such different paths, which is one of the reasons why the romance in the book is so special. The reader feels what both Ari and Dante have to go through to get to the point when they will admit their truth to themselves and each other.
Overall, Aristotle and Dante Discover the Secrets of the Universe is an incredible book and a must-read for pretty much anyone wanting a sweet, sad, silly, and thoughtful story. The sequel, Aristotle and Dante Dive Into the Waters of the World, will be released on October 12, 2021 and is available to pre-order NOW!