Review by: Andi P.
*No spoilers beyond the summary on the back of the novel
To say that I love Cassandra Clare's Shadowhunters Chronicles would be an understatement, and I had been eagerly anticipating her most recent novel. Chain of Gold is the first installment in her brand-new trilogy, The Last Hours, which is set in Edwardian era London. Taking place years after The Infernal Devices series, the story follows Cordelia Carstairs, a Shadowhunter warrior who is trained to fight demons, as she travels to London. She reunites with childhood friends Lucie and James Herondale, and she's been secretly and hopelessly in love with James for as long as she could remember. After the Carstairs family arrives in London, unusually unstoppable demon attacks suddenly occur throughout the city, and Cordelia and her friends are determined to stop them.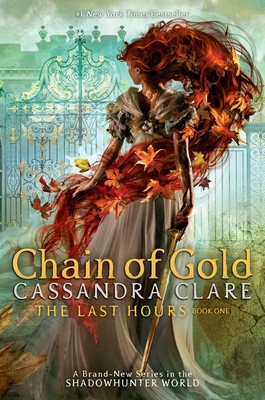 This book has everything that I love; fantasy, badass female characters, unique side characters, and romance that kept me wanting more. Clare's world building is easy to follow, and you become entranced in a world filled with half-angels, vampires, warlocks, and demons. There was an underlying mystery plot, and I thoroughly enjoyed each subplot as well. There were diverse characters that I adored, and I especially loved Cordelia. She is such a driven, brave female lead that I look up to and aspire to be like.
Overall, Chain of Gold had me on the edge of my seat with the captivating plot and action-packed adventure. I loved seeing familiar faces from The Infernal Devices, though reading scenes with them was bittersweet. However, I did find it a bit hard to remember which characters belonged to which family, so I recommend that you read The Infernal Devices prior to reading Chain of Gold if you don't want to be spoiled and want to understand the relationships better.
All in all, I give this read 5/5 stars, and if you're a fantasy lover, I highly recommend it!