Review by: Jillian K.
Welcome to the dark world of Victorian England. Where aspiring forensic scientist, Audrey Rose Wadsworth, sneaks away from the rigid social expectations of her family to study forensic science with her uncle and mysterious new ally, Thomas Cresswell. When the notorious Jack the Ripper begins his Autumn of Terror, Audrey's uncle is tasked with the investigative autopsies to decipher the victims' cause of death. Audrey and Thomas eagerly come to his aid, and begin to further endure an investigation of their own. Will she and her newfound companion be able to capture the sinister murderer? Or will Jack the Ripper get them first?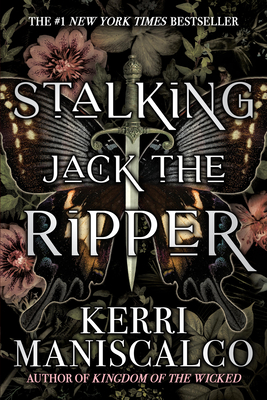 I don't even know how to begin to express my love for this novel– and the entire series, for that matter. At the beginning of 2021 I was stuck in the worst reading slump I've ever experienced. I was constantly beginning novels only to DNF them. I was so aggravated as I've always had a great love for reading and I really wanted to immerse myself in a novel again. However during the Texas snowstorm in February, this series managed to drag me out of my slump. I was stuck to my bean bag all day reading this novel. I managed to finish the entire series during the week of the storm, and allow me to tell you why you should add Stalking Jack the Ripper to your TBR.
To begin, the setting of this novel is, for lack of better word, immaculate. I personally am a huge fan of stories set in Victorian England, and the descriptions of the grisly atmosphere throughout the novel further exemplified the spine chilling tone. While as a reader you already know the premise and expect frightening moments, this novel was still able to shake me up. Not only does the reader observe detailed accounts of the horrific murder victims bodies, but when you reach the final climax of the story it still manages to be spine chilling. I don't normally read novels that have more detailed accounts of gore and this novel had me literally shaking when the tension was building in the later part of the novel. So if you are someone who can't do gore, this definitely isn't the book or series for you.
One of my other favorite things about this novel are the main characters. Far too often in YA novels, the main male character constantly attempts to overshadow the female protagonist's choices. Far too frequently statements about how she is too fragile to go out and conquer a dangerous task on her own are stated by these male romance interests. When in reality women are deeply capable of persisting on their own. However throughout this entire series, Audrey Rose Wadsworth, persists in making it clear that no man can stop her from her aspirations, and the romance interest, Thomas Cresswell, never tries to stop her. He constantly demonstrates his great respect for Audrey both as an individual and a forensic scientist. He trusts her opinions and supports her dangerous investigative tendencies. Unfortunately I don't frequently see this kind of relationship in a YA novel so I really loved their duo. They are the best example of how to build a healthy couple from a cocky work environment banter.
To further elaborate on the series as a whole, this was one of very few series' that have the same level of suspense throughout all four of the novels. Each one revolves around a different set of murders Audrey and Thomas are fighting to end. The first one obviously revolves around the notorious Jack the Ripper, with a plot that was a perfect mix of actual historical facts blended with fantasy. The second book features a newfound setting, and a killer who is inspired by vampire lore. The third is inspired by Houdini. And last but not least, the fourth ties it back to the Jack the Ripper case with a terrifying account of new murders in Chicago. As I said before, these books are definitely not for the light hearted. However the way Kerri Maniscalco weaves the character relationships within the more grisly plotline makes it really likable.
You should definitely give this series a read if you love: Victorian England, muder mystery, an amazing side romance, and suspense.
And as Thomas Cresswell would say,
Novelly Yours, until next time,
Jillian