Review by: Rebecca C.
When you see a fly, what do you do? You probably just swat at it, trying to get it to go away, but you're probably not scared of it. Well, in The Electric Kingdom, it's 2043, and flies carry a deadly flu that has wiped out millions of people. One of these people is Nico's mother. Nico now lives with her father in the farmhouse, that is until he sends her and her dog to find some magical, yet scientific, portal located in a strange place known as Manchester. The only catch is that his state of mind is starting to become identical with the one Nico's mother had during her downward spiral. Another survivor is Kit, an 11-year-old artist, who is an old-soul surviving with his mom and his two friends in a deserted town. The final character who gives us their perspective is The Deliverer, a person who seems to live multiple lives as the same individual. They take this opportunity to try to stitch the world together, no matter how minimal the effect is. These characters and more try to find their way around a dilapidated world in a journey to try to experience the happy feelings their (mostly dead) parents did in a society before the flies. It's about time they collide paths someway or another.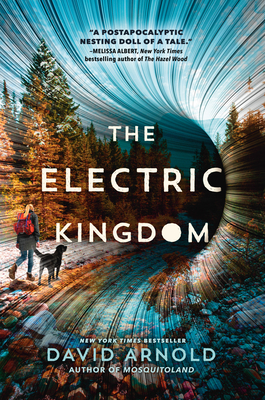 In my eyes, Nico is the main character and one of my favorites. Her questioning mindset reflects the way people should weigh the validity of the information they're given. Nico's loneliness resembles how everyone felt during quarantine. Nico also always figures something out as though she's organized, but in reality she is full of spontaneity. All of her quirks meld together to create a character that will be in the passages I decide to reread.
The setup of The Electric Kingdom intrigued me when I first opened the book. It has 6 parts, which are then broken up into standard perspective chapters. The part that I found to be interesting, though, was that there were subtitles such as "similar fates & strange encounters" and "footnotes." Some of these subtitles were self-explanatory, but some of them made me question just what I was about to read. A couple of them even contributed to the repeated thoughts in the book. Another thing that stood out to me was the fact that the Deliverer's point of view was written in first person perspective instead of the third person perspective that was used for the rest of the characters. This allowed me to get to know the Deliverer on a personal level but it also made it difficult for me to visualize them (for good reason).
You should definitely check out The Electric Kingdom by David Arnold if you have read any of his other books such as Mosquitoland, Kids of Appetite, and The Strange Fascinations of Noah Hypnotik. I've heard that this is the best book written by him so far. You should also check this book out if you're into dystopian, science fiction, or just need a medium-paced yet exciting novel. It's 432 pages with a larger font than most books, so take that as you will. The only problems that I had with this book are the fact that it gets a bit sappy in some places and its somewhat confusing beginning.
Overall, I would give this book 5/5 red books even though it made me extremely sad towards the end. The characters, the twists, the questions it poses, and the ironic depiction of humanity is what the book world needs right now.